What We Do
Restoring and Repairing Pianos
We restore, repair and rebuild pianos of all kinds. We also ensure that we repair only pianos that warrant repair or restoration. All pianos are not created equally, even those coming from the same manufacturer, pianos don't age the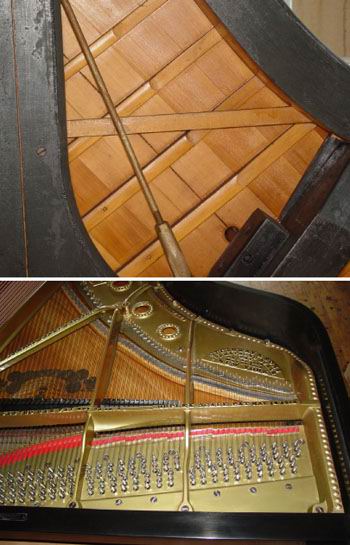 same way and they don't get treated the same way by their owners.
Pianos are all built with essentially the same components which function to do the same things. The quality of those components vary from manufacturer to manufacturer and we can say with some certainty that pianos built 75 to 100 or more years ago can often be a better buy than many new pianos.
Here you see a Mason & Hamlin Model AA that was built in 1904. The case is very distressed, the soundboard has a crack in it which you can see as a dark line running from the upper left area of the picture down toward the lower right with the grain of the wood. A common myth is that any piano with a cracked soundboard is either junk or too expensive to repair and should just be taken to the dump.
That is far from the truth. In the next picture you see a Steinway Model B after restoration. If you look carefully you can see a light colored line running under the piano strings which is the spruce shim that was used to fill the crack and restore the integrity of the soundboard. The result of the full restoration is a piano that looked very good with a sound you would expect from a Steinway and after restoration, a value of over $40,000. Had this piano been destroyed because of a crack in the soundboard, a very beautiful and valuable sounding instrument would have been lost forever.
The complete restoration of a piano can cost between $9,000 and $24,000 dollars or more if special cabinetry work is needed.
The picture below shows a piano that may not appreciate much in value with restoration. It's not made by a well known manufacturer nor does it have the expensive cabinetry found in a Steinway or other premium piano manufacturer. What makes it worth restoring, is the sentimental value it has for the family that owns it.
The parents bought the piano when they were married. They played it, their four children played it and now their grandchildren will soon be ready to play it. With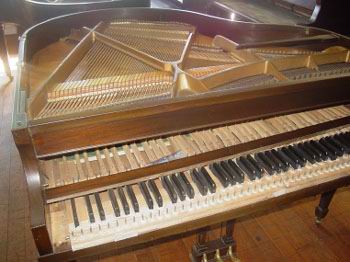 restoration not only will the grandchildren play it but their grandchildren will be able to play it as well. How much is 3 or 4 generations of memories worth?
Also, what kind of piano can you buy today for 12 to 13,000 dollars, that will be here three generations from now? Will an affordable, new piano bought today stand the test of time as this one has?
If you have a piano that you think needs work and want to know what it will cost and if it is worth restoring, call us. We will give you an accurate appraisal. We will help you determine whether a piano warrants restoration based on either it's final market value, its sentimental value or a combination of both.
Read More About:
How to hunt for a good used piano.
More about building and restoring pianos.
Old Growth Wood
The wood used to create stringed instruments are critical to the sound they produce. The strings vibrate to create sound waves that are enhanced by the case or the body of the installment through which the vibrations pass.
Listen to a violin made 150 or more years ago and then listen to one made today and you will hear a remarkable difference between the two. Craftsmanship plays a part but the richness in sound from the older instrument comes from the quality of the wood used to create it. The difference is old growth wood. Trees that grew undisturbed over 100's of years have a tighter more uniform grain than replanted forests.
The sounds produced by violins, cellos, guitars and pianos are each dependent on the quality of the woods in the case their sounds pass through. That is one of the reasons we love to restore pianos that are over 70 years old. When the restoration is complete we have an instrument that looks good and sounds wonderful.
This doesn't mean you should never buy a new piano, but if you have the option of buying a used 75 to a 150 year old piano, don't shy away just because of its age. When properly restored they can produce marvelous sounds that just cannot be matched by pianos made today. Call us to inspect any used piano you wish buy and we'll make sure it's worth the investment and that you get the best value for your money.




---
evanspiano.com
Workshop & Showroom
34 Front Street, Building 2, 4th Floor, Indian Orchard, MA
New Haven Showroom & Gallery 963
963 State Street, New Haven 06511
(203) 785-8780
(Visits by Appointment)
email:
Copyright © 2004-2012 Brenton Evans Piano Restoration. All Rights Reserved
Privacy Policy and Legal Statement