Rebuilding and Restoring Pianos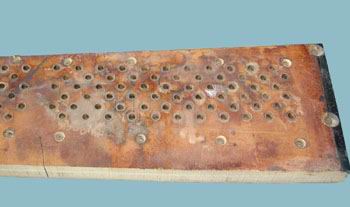 The Pin Block
Shown here is the old pinblock from a Knabe Grand Piano circa 1931. It was removed from the piano so that it can be used as a template for the new replacement block.
The pinblock is an integral part of the piano. It not only holds the tuning pins in place but transfers sound vibrations from the strings to the perimiter of the case to create a fuller sound.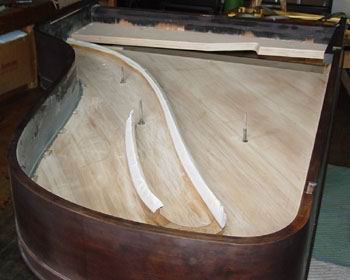 New Pin Block and Soundboard
Here you see the new pinblock as it is being installed. Below and in front of the pinblock is the new soundboard ready to be finished with historically acurate artwork and lacquer.
Notice the curved white shapes you see are the bridges which have been taped off for protection from lacquer as it is sprayed onto the soundboard.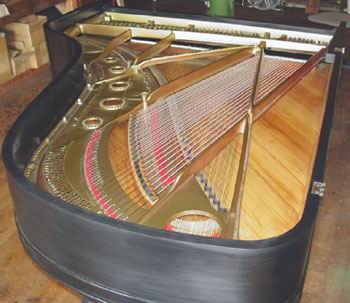 Pin Block, Soundboard and Plate Installed
The pinblock is no longer visible as it is now covered by the cast iron plate. Great care was taken to secure it firmly into the front and sides of the piano case with mortising biscuits and glue. A tight fit for the pinblock is critical to translating the vibrations of the strings through the pinblock and into the perimeter of the piano case. A proper fittting pinblock along with the appropriate downbearing of the strings and crown in the soundboard all help to ensure that you get sparkling high treble notes, floor shaking bass notes and a melodic, sonorous tenor voice.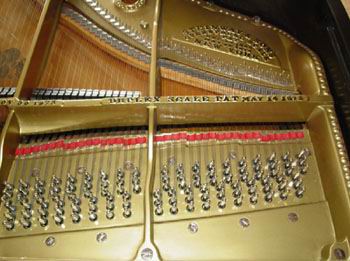 Final Stage of Restoration
This image shows a model B Steinway circa 1894 in the final stages of its restoration. The plate shown here was stripped, primed and re-bronzed with actual bronze powder mixed in lacquer and sprayed on. Then 2 or more coats of clear lacquer are applied which provide the highly reflective quality of the finish.
It gives that extra bit of sparkle. This image illustrates the many details that go into a complete and professionally executed restoration. All of the original hardware such as the aliquot bars, piano lid hinges, foot pedals and rods, the casters and even the screws that hold the plate in place have been re-nickeled and reinstalled.
Another great feature of vintage pianos is all of the raised lettering in the caste iron plate. The makers name, patent dates and city of manufacture are all carefully highlighted by hand with gloss black enamel paint. The end result is visually stunning and greatly enhances the instrument's market value.
How to hunt for a good used piano.
What we do.
---
evanspiano.com
Workshop & Showroom
34 Front Street, Building 2, 4th Floor, Indian Orchard, MA
New Haven Showroom & Gallery 963
963 State Street, New Haven 06511
(203) 785-8780
(Visits by Appointment)
email:
Copyright © 2004-2012 Brenton Evans Piano Restoration. All Rights Reserved
Privacy Policy and Legal Statement