SOLD!
1877 Steinway Upright
Rare Burled French Walnut
1877 Steinway Upright
This is an extremely rare, perhaps one of a kind, Steinway. Made of French Burled Walnut, it is 48" high and built in 1877.
This piano was bought brand new in 1877 and remained in the same Branford, CT family, until the piano came to me through a very close family friend.
This piano has been carefully refit with French made dampers and action felt. The original strings have been cleaned and re-twisted for good singing. The piano holds tune very well, at international pitch of 440 vibrations per second. The original finish has been carefully cleaned and polished. The condition of the ebony and ivory keys is testimony to the care it was given by its one and only owners. A very special instrument.
This piano is from the era of Steinway Pianos, on which the world renowned reputation is built. In caring hands this piano will produce beautiful music forever.
SOLD!
Asking Price $18,000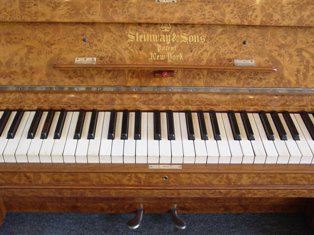 ---
evanspiano.com
Workshop & Showroom
34 Front Street, Building 2, 4th Floor, Indian Orchard, MA
New Haven Showroom & Gallery 963
963 State Street, New Haven 06511
(203) 785-8780
(Visits by Appointment)
email:
Copyright © 2004-2012 Brenton Evans Piano Restoration. All Rights Reserved
Privacy Policy and Legal Statement