STEINWAY Model D
Built 1884
Indian Rosewood, Restored Inside and Out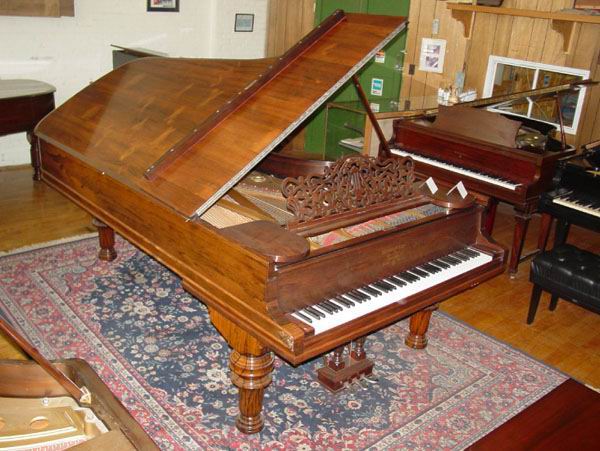 Pictures pale in comparison. This is not only a great piano, it's also a piece of furniture art. If you're looking for a special piano, one that is visually appealing and a delight to play and listen to, this is one you must see.
Whether you want to produce the thunderous passages from the works of Strauss and Holst or play the more delicate sounds from Chopin and Debussey; this piano is a masterpiece that will not disappoint.
The soundboard is this piano's original. It's made from old growth spruce which has a much tighter grain than wood grown and used in pianos made today. That is the secret to the glorious sounds that you will create when you sit down and play. This piano could easily fill a concert hall with beautiful music.

SOLD
It began it's life in Kenilworth Castle, which had been built by paper baron Edward C. Taft who had his home modeled after Gladstone Castle in England.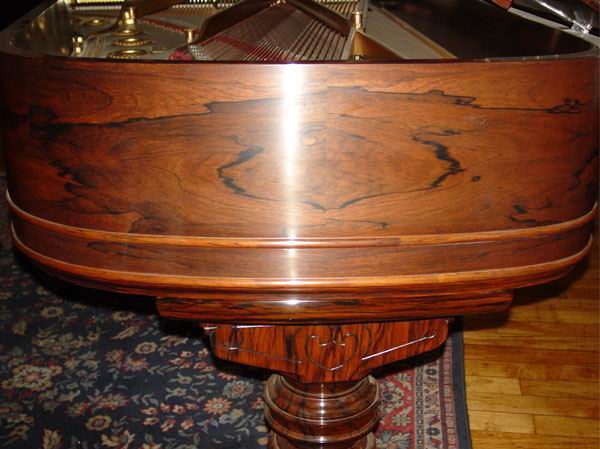 Model D Showing The Superb Indian Rosewood Finish
The Indian Rosewood veneer you see on this piano was taken from a tree that was probably 400 years old. This beautiful, dramatically grained wood has been meticulously sanded with 600 grit sandpaper and then carefully stained to highlight the the stunning pattern in the grain.
In the next stage a special compound was applied to the surface to fill all of the pores in the wood. This was the first stage in creating the smooth "closed pore" lacquer finish. After the pore filler had dried it was wet sanded by hand between each of its 6 to 10 coats of clear lacquer. Each coat of lacquer was applied in a light spray and then hand rubbed with the grain of the wood. When a good solid finish had been created, the entire piano was rubbed with extra fine steel wool, followed by rubbing compound and pumice powder.
The result of this painstaking work is a beautiful, soft, satin-gloss lustre finish. A hand rubbed finish like this, not only looks good, but will provide the piano with excellent protection for a great many years.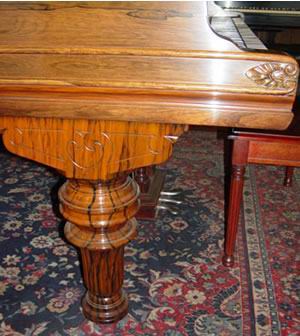 Model D Side Detail
Made from the finest of Indian Rosewood, with hand carved details you won't find on piano cabinets made today. The wood has a warm glow that will enhance any room it is placed in.





Model D Leg Detail
Expertly turned legs with hand carved the details were created by master craftsmen who left nothing to chance.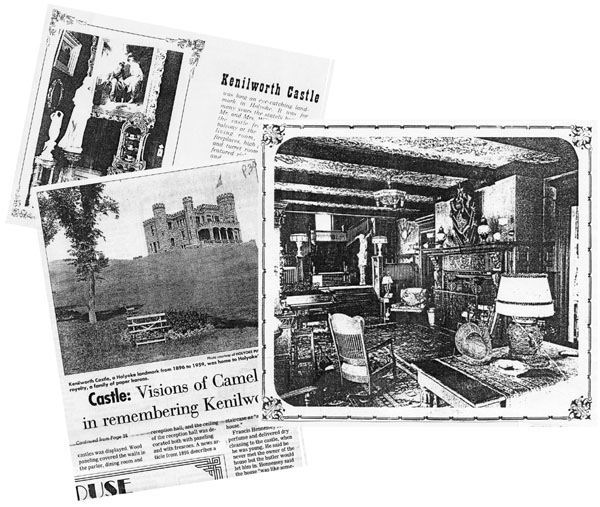 The Steinway Model D was in great company in the Taft home. The place was filled with statues, paintings and art pieces making it one of the most desirable homes in the town of Holyoke, Massachusetts.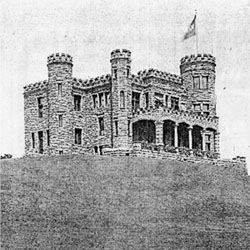 Kenilworth Castle
For a little over 70 years this was home to the Steinway Model D we have been showing you. The provenance for this piano comes with it. You can be assured it has lived a good life and been part of the "good life" as well.



After landing in Springfield, Massachusetts it traveled by wagon to Holyoke and the newly finished Kenilworth Castle. The piano was purchased for Taft's daughter Lucretia at a time when paper merchants and manufacturers were still enjoying great prosperity; that was soon to end.

The boom period for paper manufacturing soon came to an end. In 1894 prices for paper dropped dramatically and stayed down for the next three years. Several paper manufacturer's folded and the Taft's who had been renowned for lavish entertaining, saw their fortunes begin to disappear.

Lucretia married William D. Flagg whose family was in the lumber business. They purchased Kenilworth Castle in 1897 after William Taft's death. Lucretia lived there until her death in in 1957. The property and the Castle became the property of the Hadley Falls Trust Company.

The piano was purchased by Mr. Clark Lyon of Holyoke for his wife who had it fully restored and used it up until her death. This piano has survived for 120 years and sounds as good as the day it was made. It has the potential to live for another 120 years.

Please call to make an appointment to view and play this great piano. We know it will impress you.






---
evanspiano.com
Workshop & Showroom
34 Front Street, Building 2, 4th Floor, Indian Orchard, MA
New Haven Showroom & Gallery 963
963 State Street, New Haven 06511
(203) 785-8780
(Visits by Appointment)
email:
Copyright © 2004-2012 Brenton Evans Piano Restoration. All Rights Reserved
Privacy Policy and Legal Statement