Complete refinishing, rebuilding and sales of vintage pianos in all categories.
STEINWAY Model A-2
Serial # 87690 Built 1897
Honduran Mahogany, Restored Inside and Out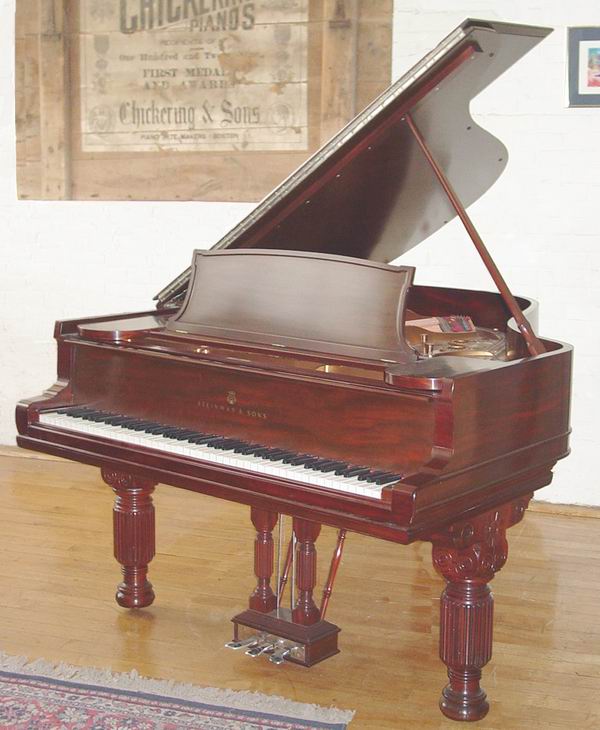 Steinway Model A-2

This piano lived its whole life (until recent restoration) in Farmington, Connecticut. It offers testimony to the advantages of having only one owner since it was made in 1897. It's original ivory keys are in excellent condition.

The piano case has a hand-rubbed, closed pore lacquer finish over a mahogany veneer that is unequaled on any modern pianos of today. It has been lovingly restored; complete with new soundboard, bridges, pinblock, strings and tuning pins. This piano has the smooth, rich sonority that is one of the unique features found only in a vintage piano

The Model A-2 is 6 feet 2 inches in length and has the floor-shaking bass section that just isn't found in new pianos I've played that are 7 feet or more in length. It's solid, pure tonal quality throughout the scale inspires one to play. One note, two or three notes and you will experience how; when this piano is played, it plays back.

We invite you to make an appointment so you can see and play this wonderful instrument. There is no question that this piano was originally fashioned by the world renowned Steinway craftsmen when they were in their heyday.

You won't be disappointed.
Asking $36,85 REDUCED!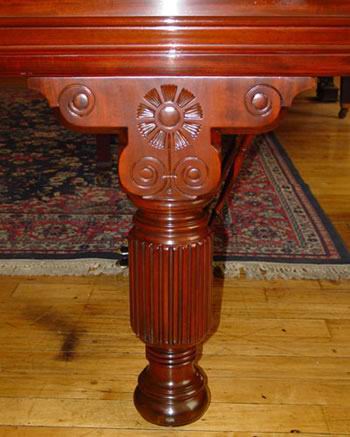 Model A-2 Showing Classic Details
The hand carved and hand rubbed details that you see in the legs on this piano are in keeping with the rest of the piano case.

The piano case has a hand-rubbed, closed pore, lacquer finish over a mahogany veneer that is unequaled on pianos made today.




Interior of the Model A-2
(Pictured below)
Even the interior of the A-2 is impressive. As part of our restoration of this great piano is the cleaning and rebronzing of the harp or cast iron plate of the piano. There are hand-finished details such as the black enamel paint on the raised lettering on the plate and replacement of the historically accurate artwork. Seen here also: aliquot bars re-nickeled along with all other hardware.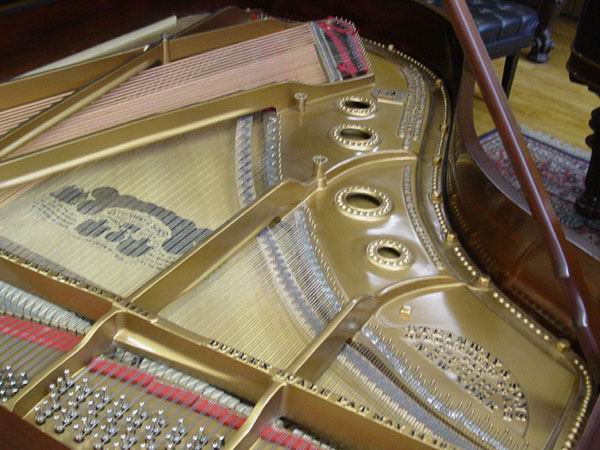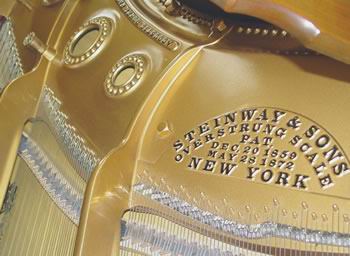 Close-up of Lettering Details
This picture shows the black paint as it was applied to the raised lettering after the plate was rebronzed.






---
evanspiano.com
Workshop & Showroom
34 Front Street, Building 2, 4th Floor, Indian Orchard, MA
New Haven Showroom & Gallery 963
963 State Street, New Haven 06511
(203) 785-8780
(Visits by Appointment)
email:
Copyright © 2004-2012 Brenton Evans Piano Restoration. All Rights Reserved
Privacy Policy and Legal Statement