A. M. Hume
1909
Satin Ebony Finish
A. M. Hume
Satin ebony finish built in 1906 in Boston. A.M. Hume Grand Pianos were a limited edition made by the highly respected Steinert Piano Company. These pianos were only made between 1903 and 1916. Steinert is still a revered maker of pianos here in the northeast. Steinert Hall at 200 Boylston St. in Boston is the Massachusetts home of Steinway pianos.
This 6 foot long grand piano has been completely restored with new ebony finish on the exterior. It has been outfitted with new strings, tuning pins and a new maple pin block. The original hardware has all been re-nickel-plated to a mirror finish. The spruce soundboard has been restored and finished to allow for clear, move the floor bass tones while still allowing a smooth bright tenor and treble section to sing and sparkle.
The action has been rebuilt with all new German made Abel hammers, hammer shanks and flanges. We have kept original whippens to avoid making the action feel "heavy". The key frame has been cleaned and all underkey felts, regulating punchings and backrail felt are new. Careful regulation allows this piano to play with ease.
Asking Price - Contact for prices and information. Collection of four A.M.Hume pianos available.


A. M. Hume Leg Detail

The subtle yet decorative leg detail is that of the capital of an Ionic column with inset leg panels. The legs are finished with the original nickel plated casters.





A. M. Hume Lyre detail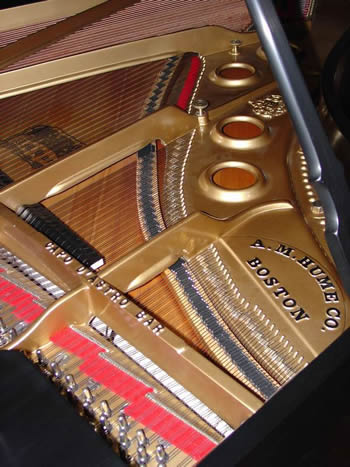 A. M. Hume interior detail
---
evanspiano.com
Workshop & Showroom
34 Front Street, Building 2, 4th Floor, Indian Orchard, MA
New Haven Showroom & Gallery 963
963 State Street, New Haven 06511
(203) 785-8780
(Visits by Appointment)
email:
Copyright © 2004-2012 Brenton Evans Piano Restoration. All Rights Reserved
Privacy Policy and Legal Statement