Complete refinishing, rebuilding and sales of vintage pianos in all categories.
McPhail Upright

Built 1886 Serial# 13091
In process of restoration
Unusual, possibly one-of-a-kind Brass Panel Front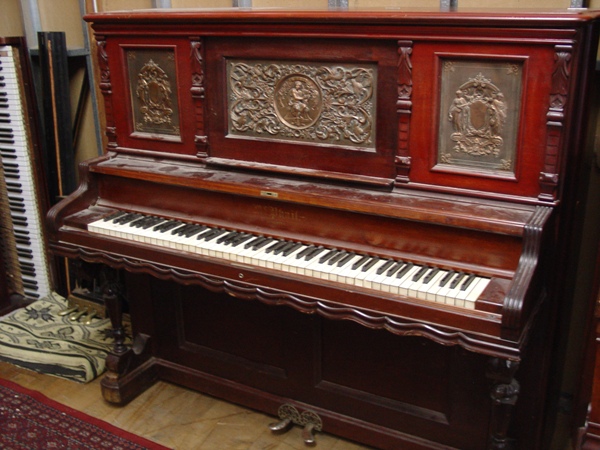 McPhail Upright
A classic upright design from A. M. Mcphail - built before company acquired by Kohler & Campbell (1891).
Superb cabinetry, massive wrap around plate, beautiful original ebony and ivory keys, wonderful tone.
Original shellac finish over mixed poplar/cherry and other mixed hardwoods, stained dark red.
Beautiful Brass inserts in front panel.
Soundboard in poor condition, needs shimming and glueing.
Original action parts in fair condition.
Call for Price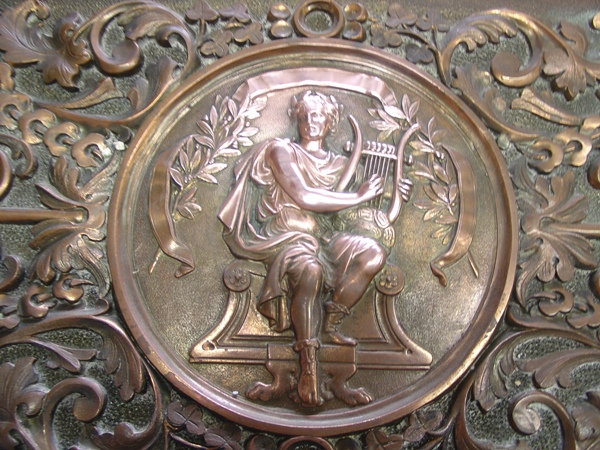 Detail of central brass panel
---
evanspiano.com
Workshop & Showroom
34 Front Street, Building 2, 4th Floor, Indian Orchard, MA
New Haven Showroom & Gallery 963
963 State Street, New Haven 06511
(203) 785-8780
(Visits by Appointment)
email:
Copyright © 2004-2012 Brenton Evans Piano Restoration. All Rights Reserved
Privacy Policy and Legal Statement